Everyone desires youthful, flawless skin, and to attain that, people are always on the lookout for treatments and procedures that can work wonders for their skin.
One such amazing treatment is microdermabrasion. It is a result-oriented procedure that safely exfoliates and resurfaces your skin, making it smoother, even, and tighter.
Dr.Archit Aggarwal is an expert in microdermabrasion treatment in Faridabad. He is the founder of KDC Clinic, a world-class advanced skin and hair care centre.
Dr.Archit Aggarwal is considered one of the best dermatologist in Faridabad for his exceptional care and high-quality treatments. Apart from cosmetic dermatology, he excels in managing and treating psoriasis, vitiligo, and eczema.
Keep on reading to learn more about microdermabrasion treatment in Faridabad.
What is microdermabrasion?
Microdermabrasion is a chemical-free, non-invasive procedure that gently exfoliates the outer layer of the dead, dry skin to reveal blemish-free, healthy skin below. The doctor uses a wand-like special device having an abrasive surface to gently exfoliate the outer layer of the skin by spraying micro-crystals on it.
Microdermabrasion improves the tone and texture of the skin by stimulating the production of elastin and collagen. For best results, you will need around 5 to 12 treatments at an interval of 2 to 3 weeks depending on the reason for the treatment and skin type.
What skin issues can be addressed by microdermabrasion?
Dr.Archit Aggarwal, a leading skin specialist in Faridabad, recommends microdermabrasion to people having the following skin concerns: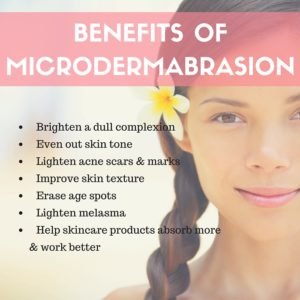 Acne and acne scars
Finelines
Wrinkles
Sun-damaged skin
Dull complexion
Blackheads and enlarged pores
Stretch marks
Age spots, hyperpigmentation, and brown spots
Uneven texture and skin tone
Please note that pregnant women should avoid microdermabrasion. Also, if you have undergone any skin treatments including chemical peels, or collagen injection, then you must wait for around 2 to 3 weeks before getting microdermabrasion.
How will you prepare for microdermabrasion?
Before you undergo microdermabrasion, you will have to visit our skin clinic in Faridabad for consultation.
Dr.Archit Aggarwal will discuss your skin concerns, expectations from the treatment, prior cosmetic procedures, medical conditions, and allergies to determine if this is the proper treatment for you.
Furthermore, he will give you instructions about things to follow before the treatment:
Avoid waxing, tanning creams, and sun exposure a week before your procedure.
Three days before treatment, stop using masks and exfoliating creams.
What is the procedure for microdermabrasion?
Microdermabrasion treatment in Faridabad is an in-house procedure that takes around an hour to complete. Mostly, the dermatologist does not use any numbing agent or anesthesia for microdermabrasion.
Step 1 – Cleanse
Before starting the treatment, the specialist will use a cleanser to clean and dry your skin. This ensures smooth movement of the wand without any obstruction.
Step 2 – Microdermabrasion treatment
The dermatologist will use awand to direct a jet of tiny crystals onto your skin. Then using moderate suction, the device eliminates dead skin cells and exfoliates the skin. This resurfaces the skin and increases blood flow, thus helping the skin to regenerate and develop collagen and elastin.
The dermatologist will move the device all over your face and neck and then focus on problem areas such as fine lines, acne scars, pigmentation, open pores, and blemishes.
Step 3 – Moisturization and Sun Protection
Finally, the dermatologist will apply a non-medicated moisturizer that does not contain retinol, essential oils, glycolic acids, or AHAs to hydrate the skin and prevent it from drying and peeling.
Sun exposure may cause premature ageing or pigmentation. Applying sunscreen after microdermabrasion is necessary to protect the skin from excessive sun exposure.
This is particularly applicable for individuals undergoing microdermabrasion to treat pigmentation during the summer. The pigmentation could resurface if you donot use sunscreen regularly.
What are the different types of microdermabrasion?
Some of the different ways microdermabrasion is done depend on the device used.
Crystal Microdermabrasion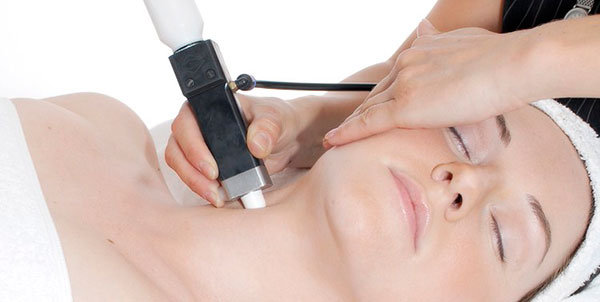 Crystal microdermabrasion uses a specially designed wand that gently sprays minute crystals to exfoliate the outer layer of the skin. The device immediately suctions off the dead skin cells.
For the procedure, crystals of sodium bicarbonate or aluminium oxide may be used.
Diamond Microdermabrasion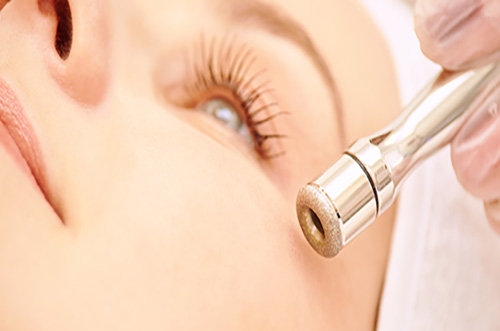 A diamond-tip device is used to gently remove the dead skin cells while simultaneously suctioning them off your skin.
The dermatologist will handle the depth of abrasion by the amount of time the device and suction are applied to your skin.
This device is mainly used on delicate areas of your face, such as near your eyes.
Hydradermabrasion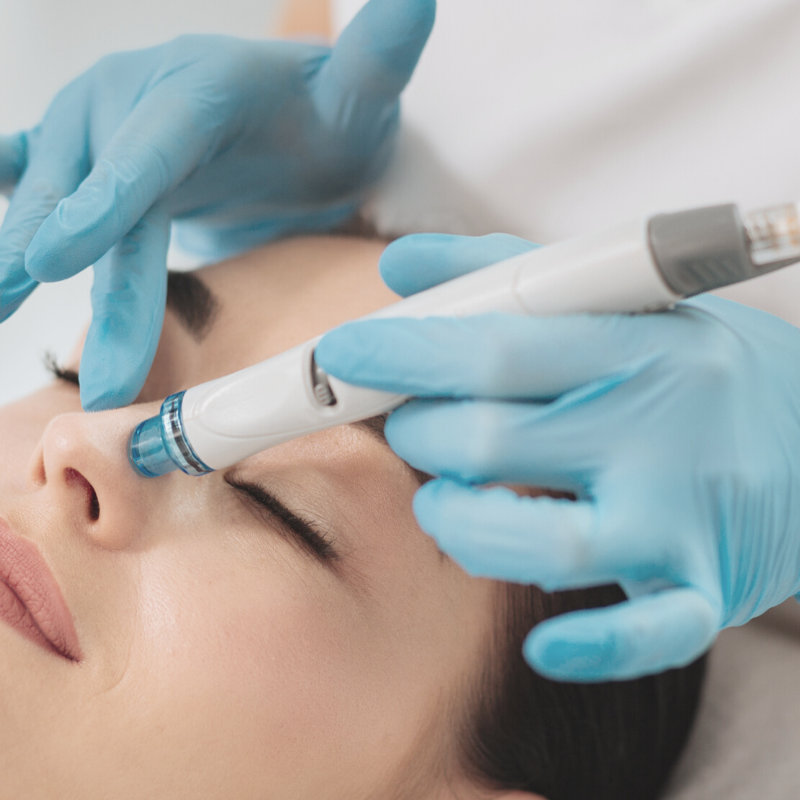 Hydradermabrasion is the latest technique that exfoliates, deep-cleans, and hydrates your skin while delivering serums tailored to suit your skin type.
This helps to increase the blood flow to your skin and stimulate collagen formation. It is one of the most popular microdermabrasion treatment in Faridabad at our KDC Clinic.
What are the side effects of microdermabrasion?
Dr.Archit Aggarwal, one of the best dermatologist in Faridabad, advises people who have had isotretinoin, the medication for acne in the past six months, to avoid having microdermabrasion for some time as they are at an increased risk of possible complications, like scarring.
Apart from that, if you have any patch or spot on your skin that is growing, changing, or bleeding, please bring it to the doctor's notice before treatment.
Common side effects of microdermabrasion include:
Bruising
Redness
Swelling
Stinging or burning sensation
Sensitivity to sunlight
Sun protection is very important after the procedure as it will ensure better results and minimize the risk of complications.
However, people who have cold sore breakouts or scars easily should not consider microdermabrasion.
Recovery and results after microdermabrasion
You can resume your normal activities immediately after your microdermabrasion treatment as there is minimal to zero downtime. However, take care of your skin, use mild skin care products to keep it hydrated, and don't forget to use sunscreen as your skin will be more sensitive to sunlight following the procedure.
Refrain from using topical acne medications for around a day after treatment. Results will be visible right away after the treatment. But you may need multiple sessions depending on the severity of your skin issue and expectation. The dermatologist will discuss your treatment plan and update you about the maintenance treatments.