Everyone loves to have a clear and flawless complexion that enhances your beauty and gains several compliments.
But due to many factors such as hormone changes and overexposure to the sun, we develop pigmentation, wherein our skin's radiance gets dull and the tone uneven and patchy.
This issue does not resolve on its own, but fortunately, at KDC Clinic, we have effective pigmentation treatment in Faridabad that can help you regain your smooth and clear skin once again. Our founder, Dr. Archit Aggarwal, is a well-known and trusted dermatologist in Faridabad who is an expert in treating pigmentation. He believes in treating the root cause of the problem to achieve an excellent, long-lasting outcome.
We only provide tested and result-oriented pigmentation treatments at our premier skin clinic using FDA-approved techniques and technology. We lay great emphasis on your safety and satisfaction. Therefore, we provide customized pigmentation treatment in Faridabad as per your unique needs.
Before discussing the pigmentation treatment, let us first understand pigmentation, its causes, and ideal candidates.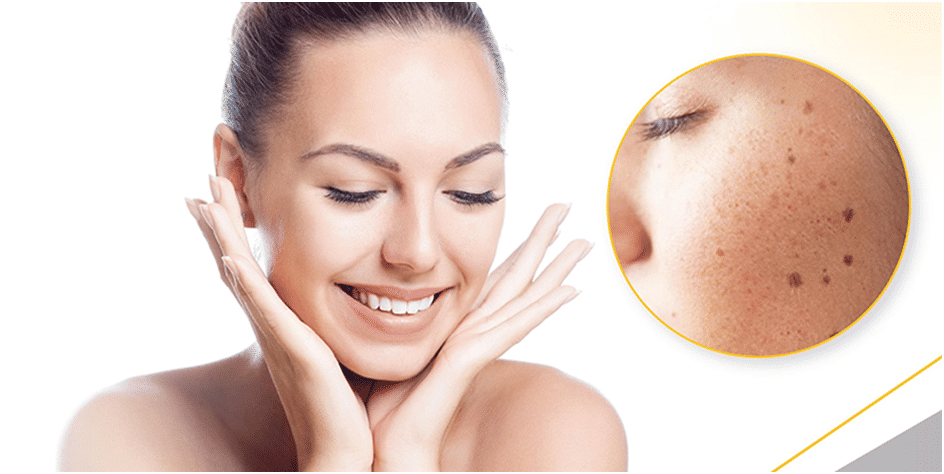 Pigmentation Overview
Pigmentation is a skin disorder that develops due to the overproduction of melanin, the pigment that gives color to your skin. This can cause spots or areas of skin to seem darker than the rest of the body. It affects a lot of people irrespective of their skin type.
There are various types of pigmentation, including superficial pigmentation, such as sun damage and suntan. Deep pigmentation includes melasma, deep suntan, chloasma, hyperpigmentation, etc., which are difficult to treat. Another type is frictional pigmentation, which results from deep pigmentation and constant rubbing.
If you find these spots on your skin, a pigmentation treatment can definitely help. You can consult Dr. Archit Aggarwal, a competent dermatologist in Faridabad, to find out which methods can help you get rid of pigmentation.
What are the causes of pigmentation?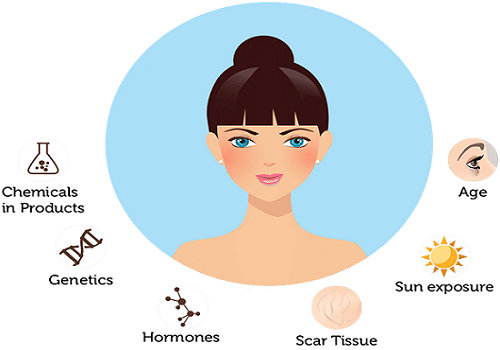 The most common cause of pigmentation is sun exposure and hormonal imbalance. Apart from them, the following can also contribute to it:
Fungal infection
Pregnancy
Autoimmune disorders
Drug reaction
Injury
Genetic factors
Sunburn
What are the different types of skin pigmentation?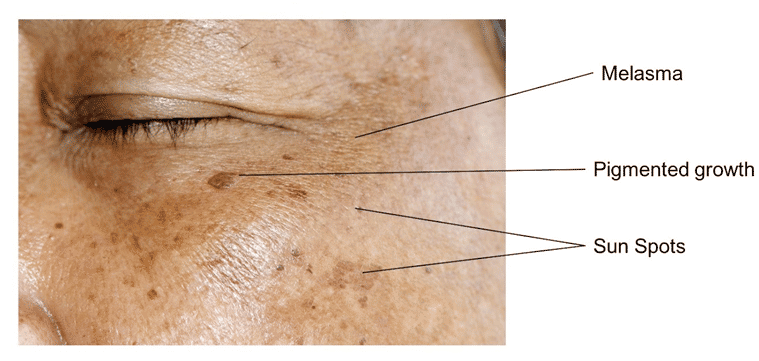 Pigmentation has been classified into several categories based on the causes and environmental factors:
Sun damage
Melasma
Age spots
Post-inflammatory hyperpigmentation
Freckles
Post-acne skin pigmentation
Who is a good candidate for pigmentation treatment?
It would help if you met specific criteria to be a suitable candidate for pigmentation treatment in Faridabad at KDC Clinic. To begin, you must be in good overall health so that you can recover quickly. Other requirements include:
You must be able to follow guidelines regarding the application of sunscreen strictly
It would help if you had less exposure to sunlight
You must not be a smoker because it provides better outcomes
You must follow a good skin care regimen
You must be free of any skin condition
What is the pigmentation treatment cost in Faridabad?
At KDC Clinic, we are quite particular about providing all treatments and procedures at an affordable cost. Dr. Archit Aggarwal, a dedicated dermatologist in Faridabad, feels that first-class medical treatment should be within reach of all classes of people.
The pigmentation treatment cost in Faridabad will depend on the type of treatment you undergo and the severity of your issue. When you visit the clinic for consultation, you may also inquire about the cost involved to undergo the treatment. The charges for each procedure are different.
Pigmentation treatment in Faridabad
During the consultation, our dermatologist in Faridabad will carefully analyze the root cause of the issue before determining any treatment. Then he will discuss the different treatment options available and help you make the right choice.
Topical products
Our dermatologist may recommend anti-pigmentation lotions and retinoids for people with minor pigmentation. They contain active ingredients that minimize the amount of melanin in the skin.
Short-term use could assist in reducing the appearance of dark patches and perhaps treat melasma. But they are unable to correct deep pigmentation.
Chemical peels
Chemical peels are a skin resurfacing procedure that uses a chemical solution to exfoliate dead skin cells and resurface the younger, healthier skin layer beneath. This way, we will reduce the dark patches on your skin.
Depending on whether you require a light, medium, or deep peel, our doctor will use glycolic acid, alpha-hydroxy acid, and trichloroacetic acid as agents in different peels. At KDC Clinic, we offer different types of chemical peel procedures carried out to perfection by our experienced dermatologist in Faridabad.
Microdermabrasion
This procedure involves removing the epidermal layer of the skin using medical equipment. Although this process necessitates several sessions, it is an excellent way to eliminate pigmented spots. It would help if you got it done by a skilled dermatologist to ensure the most remarkable results.
Mesotherapy
In this pigmentation treatment, the skin specialist will treat the dark patches on the skin with injectable agents such as enzymes, vitamins, hormones, and plant extracts. As per your condition, he will inject these into the varying depths of the skin areas impacted by pigmentation. It is a safe and quick treatment with zero downtime.
Laser peels
Treating skin pigmentation with a laser peel is a safe and effective method. Dr. Archit Aggarwal uses a laser to send wavelengths into the targeted parts of your skin, which eliminates damaged skin cells and decreases pigmentation.
There are no adverse side effects, and the results are seen right away. You will need several sessions to treat pigmentation effectively, and in addition, it will also improve the overall texture, brightness, and tone of your skin.
Intense Pulsed Light (IPL)
It is one of the most popular pigmentation treatment in Faridabad at our clinic. The dermatologist uses a handheld flashgun to target melanin with multiple wavelengths of broad-spectrum light. The light energy enters the epidermis and dermis layers of the skin, breaking up the melanin particles.
Why choose KDC Clinic for pigmentation treatment in Faridabad?

Dr. Archit Aggarwal is a highly knowledgeable, and efficient dermatologist in Faridabad, confident in his diagnosis and treatment recommendations. He makes sure that his patients know the stages of recovery and potential adverse effects.
KDC Clinic is a modern and well-equipped dermatology and cosmetology clinic having the most advanced technology for delivering superior outcomes.
From a simple skin peel to a more complex medical procedure, our carefully balanced aesthetic and therapeutic approach is tailored to your specific skin and body needs. We developed this holistic approach to provide you with the benefits of the best science and aesthetics have to offer.