If you are a beauty lover or skincare enthusiast, you may have looked into procedures like micro-needling or microdermabrasion in Faridabad to improve the quality of your skin with minimal downtime.
According to Dr. Archit Aggarwal, a renowned dermatologist in Faridabad, this low-risk, high-reward skincare treatments are more than just buzzwords. These revitalizing therapies may help you look and feel your best. But you might be wondering, what is the difference between them, and which one is best for you?
Continue reading this article to learn more about microdermabrasion and micro-needling.
Microdermabrasion Vs. Microneedling
Even though they both target the same skin issues, micro-needling and microdermabrasion are two different procedures that use different methodologies to accomplish their outcomes. Microdermabrasion exfoliates the skin while micro-needling stimulates it. Microdermabrasion targets the skin's surface, whereas micro-needling treats the deeper epidermal layers and dermis .
The face is the principal focus of both therapies. However, they can treat other body parts, such as the neck and upper chest. Depending on the area, the time for both treatments typically ranges from 30 to 60 minutes.
Now, let's understand,
What is Microdermabrasion, and how does it work?
Microdermabrasion is a non-invasive process. It involves using vacuum suction to remove dead skin, dirt, and debris from the skin's surface. Dr. Archit Aggarwal, a seasoned skin specialist in Faridabad, says your doctor may softly "buff and polish" your skin as they remove the top layer of skin cells using a powerful diamond-tipped applicator.
It helps relieve stiffness and encourages the formation of healthy new skin cells, leaving your skin smoother, fresher, brighter, and even-toned.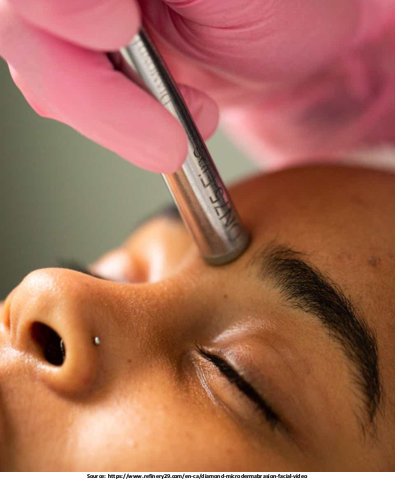 Microdermabrasion is similar to "sandpapering" your skin very softly. A built-in suction in some microdermabrasion devices collects the material removed from the skin. After a microdermabrasion session, you may notice immediate benefits. Dr. Archit Aggarwal mentioned that professional microdermabrasion devices are more potent than at-home microdermabrasion tools.
Regardless of the type of machine used, most people may require more than one session because just a very thin layer of skin may be removed at a time, he adds. Your skin also transforms and develops throughout time. For the most pleasing results, you will undoubtedly require more treatments.
Which skin problems can microdermabrasion target?
Acne and congestion
Dullness
Breakouts and blackheads
Uneven skin tone
Dry skin
What is the downtime for microdermabrasion?
Microdermabrasion is a non-surgical and painless skin treatment. After a treatment, you may require no or very little recovery time.
You may experience the following common side effects:
slight skin irritation
redness
tenderness
Less common side effects include:
What exactly is Micro-needling, and how does it work?
Micro-needling is the more recent of the two treatments. It works by stimulating the skin's natural healing response. Micro-needling is a minimally invasive treatment. It can be a little unpleasant; hence before the procedure, we apply a numbing cream to the client's skin, says Dr. Archit Aggarwal, a proficient dermatologist in Faridabad.
The doctor uses a derma roller with fine needles of 0.5 to 3 millimetres to enter the skin during the procedure. A derma roller is a standard micro-needling tool with a tip comparable to a tattoo machine.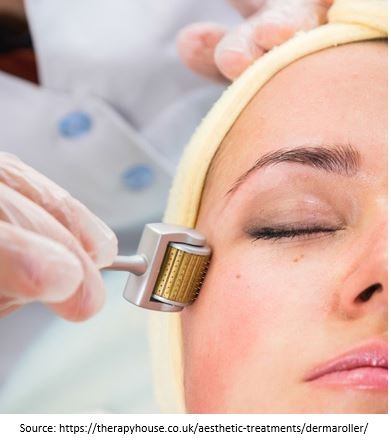 It is a tiny wheel surrounded by rows of thin needles. The tip pushes needles out in a back-and-forth motion as it moves across the skin. It can produce up to 250 small holes per square centimetre by rolling them along the skin.
This causes microscopic holes in the skin that stimulate collagen and elastin production. The collagen aids in the creation of more refined, smoother, and firmer skin. It also plumps up fine lines and wrinkles while also thickening the skin.
Which skin issues can micro-needling treat?
Dermatologists may utilize micro-needling for the following skin problems:
Open pores
Fine lines
Stretch marks
What is the downtime for micro-needling?
The depth to which the needles penetrate your skin determines your recovery from micro-needling therapy. Your skin may take several days to return to normal.
You might have:
redness
swelling
bleeding
oozing
scabbing
bruising
pimples
Which treatment is right for you?
Depending on your skin and specific needs, your dermatologist may recommend microdermabrasion, micro-needling, or combination.
Microdermabrasion and micro-needling aren't quick fixes for all of your skin issues. Both treatments may improve the texture and tone of the skin over time.
Skin experts usually advise clients to receive at least three treatment sessions at monthly intervals to attain the optimum outcomes. Microdermabrasion treatments can be done every two weeks.
How much does micro-needling and microdermabrasion treatment cost in Faridabad?
The micro-needling and microdermabrasion treatment cost may vary depending on factors like:
extent of the treatment area
number of sessions
combination treatments
dermatologist's fee
The total cost of these treatments varies from person to person, depending on the severity of the condition, target area, skin thickness, and the number of sessions. Microdermabrasion is usually more expensive. A single micro-needling treatment in Faridabad might cost anywhere between Rs. 1000 to Rs. 15,000.
The price listed above is simply an estimate and may differ from one facility to the next depending on the clinic's reputation, location, equipment, and doctor's experience. Going to a dermatology clinic in Faridabad is better to determine how much the treatment will cost. Medical insurance usually does not cover microdermabrasion or micro-needling. You will likely have to pay for the treatment.
Now, let's discuss,
Post Treatment Care
Microdermabrasion and micro-needling require similar post-treatment care. After micro-needling, you will probably need more time to care for yourself.
The following are some helpful tips for better healing and results:
Don't touch your skin.
Keep your skin clean.
Avoid strenuous exercise and excessive perspiration.
Keep out of direct sunlight.
Avoid strong cleansers and perfumed moisturizers.
Avoid acne medication.
Avoid makeup.
Avoid chemical peels or creams.
Avoid retinol creams.
If necessary, apply a cold compress.
Use prescribed gentle cleansers and medicinal creams.
Follow your dermatologist's instructions for taking any prescribed medications.
Safety Tips
For Microdermabrasion:
Although microdermabrasion is a less invasive technique, it is necessary to have a skilled dermatologist do it and follow the proper pre-and post-care instructions.
Some of the potential complications include:
For Micro-needling:
According to dermatologists, at-home micro-needling rollers can be harmful. This is because their needles are usually duller and shorter. If you use a low-quality micro-needling tool or perform the process poorly, it can damage your skin.
This could also result in:
Takeaway
For similar skin issues, microdermabrasion and micro-needling are standard skincare treatments. They use different techniques to improve the appearance of the skin.
Because it works on the top layer of your skin, microdermabrasion is generally a safer process. Micro-needling works just beneath the surface of the skin. Dr. Archit Aggarwal recommends you should get both treatments from a trained skin specialist and avoid at-home microdermabrasion and micro-needling procedures.