Is your hair loss giving you sleepless nights?

Have all the homemade remedies, and over-the-counter medications failed to boost hair growth?
Well, there is some great news for you. With the increasingly popular PRP treatment in Faridabad, you can reverse your hair loss and get back your thick, luscious hair.
At KDC Clinic, we understand your anxiety and helplessness at losing your precious hair strands, affecting your looks and self-confidence.
Dr. Archit Aggarwal, a prominent dermatologist and founder of KDC Clinic, is committed to providing world-class aesthetic and hair restoration treatments that surpass your expectations. He is known for his keen eye for detail, precision, and tailored treatment plans according to your unique needs. He provides one of the best PRP treatment in Faridabad.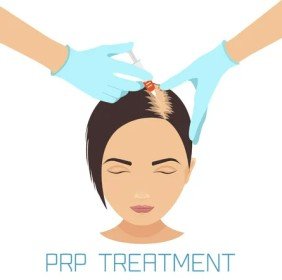 Keep reading to know the process, benefits, and side effects of PRP treatment.
What is PRP treatment?
Platelet-rich plasma (PRP) is a cost-effective, quick, and safe hair loss treatment in which the doctor injects the rich plasma from your blood into your scalp. Platelet-rich plasma is rich in stimulatory growth factors that support cell growth and help tissues regenerate.
This treatment boosts and maintains hair growth by increasing the blood flow to the hair follicles and making the hair shafts thicker. Occasionally, Dr. Archit Aggarwal combines PRP with other medications or hair restoration procedures like FUE hair transplant.
Since the 1980s, PRP has been in use for healing injured muscles, ligaments, and tendons. Nowadays, doctors also use it for stimulating hair growth and facial rejuvenation.
PRP treatment in Faridabad is one of the most opted procedures at our clinic, as patients are assured of outstanding results with zero downtime.
What is the process for PRP?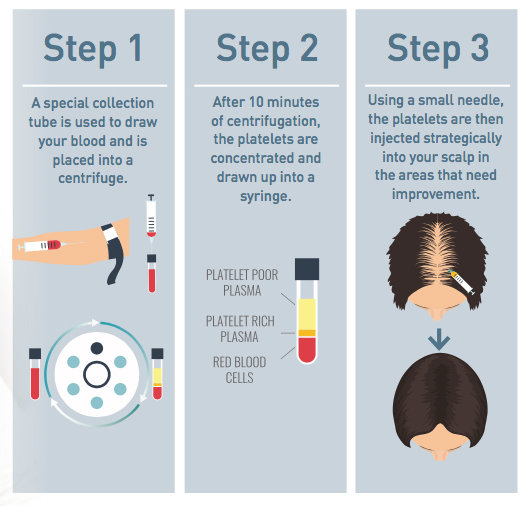 PRP treatment for hair is a three-step non-surgical process. You will require a few sessions, which are done at an interval of 4 to 6 weeks. Furthermore, you will need maintenance treatment every 4 to 6 months.
Step 1
When you come to the clinic for your PRP treatment in Faridabad, Dr. Archit Aggarwal will take a sample of your blood from your arm and put it in a centrifuge. It is a machine that spins at an incredible speed to separate the fluid of varying densities.
Step 2
After spinning your blood in the centrifuge for some time, it will separate into three layers:
Red blood cells
Platelet-rich plasma
Platelet-poor plasma
Step 3
The doctor will take the platelet-rich plasma into the syringe and inject it into the affected areas of the scalp that require hair growth.
There is no recovery time needed after the procedure, and you can resume your normal activities immediately.
What are the benefits of PRP treatment?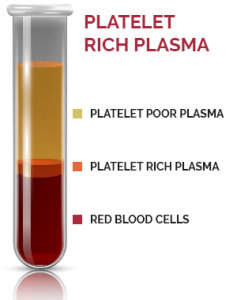 Some of the advantages of PRP treatment are:
Stimulate regrowth of hair follicles
Improve blood flow to the follicles
Increase the thickness of the hair follicles
Activate and extend the growing phase of hair
Minimize hair loss
No potential risk for infectious disease, as your own blood is used.
What are the side effects of PRP?
Some complications of PRP are:
Infection
Bleeding near the injection site
Injury to nerves or blood vessels
Calcification at the injection sites
Scar tissues
Reaction to the anesthetic used
Who are not suitable for PRP treatment for hair?
When you come for your initial consultation for PRP treatment in Faridabad at KDC Clinic, Dr. Archit Aggarwal will examine your scalp and hair and ask about your health history and medications.
He may advise you not to undergo PRP if:
You are taking blood thinners
You drink alcohol excessively
You are a heavy smoker
He may also not recommend the treatment if you have the following condition:
Cancer
Sepsis
Chronic or acute infection
Metabolic disorder
Chronic skin disease
Thyroid disease
Systemic disorder
Chronic liver disease
Platelet dysfunction syndromes
Hemodynamic instability
What is the PRP hair treatment cost in Faridabad?
Generally, you will require at least 3 to 4 sessions of PRP treatment for hair with a gap of 4 to 6 weeks. After that, you will need maintenance treatment every 4 to 6 months.
The PRP hair treatment cost in Faridabad ranges from Rs. 6000 to Rs 10000 per session. Some clinics offer a lump sum package cost for three or more sessions.
Apart from that, the pricing for PRP will depend on:
Quality of equipment
Doctor's experience and expertise
Additional nutritive components, if added
We want to assure you that the charges for PRP treatment for hair at KDC Clinic are affordable and suit everyone's budget.
Why choose KDC Clinic for PRP treatment in Faridabad?

KDC is an ultra-modern dermatology clinic having top-of-the-line technology and infrastructure to provide patients with excellent treatment options.
It is a one-stop destination for all your hair and skin concerns. Dr. Archit Aggarwal excels in surgical and non-surgical cosmetic and dermatology treatments that deliver outstanding results.
We provide one of the best PRP treatment in Faridabad at a cost-effective price. It helps regrow healthier hair by activating dormant hair and reversing the miniaturization of hair follicles.