Do you want to get a hair transplant in Faridabad?
But, concerned about undergoing invasive and painful hair transplant procedures?
Then, the advanced Follicular Unit Extraction (FUE) hair transplantation may be a good option for you. It is a cutting-edge, minimally invasive, and scarless procedure.
Visit the KDC Clinic to avail the most effective and result-oriented FUE hair transplant in Faridabad. Here, Dr. Archit Aggarwal, a skilled dermatologist in Faridabad, offers the most advanced, desired, and best FUE hair transplant in Faridabad.
We also provide other hair restoration treatments such as PRP therapy and mesotherapy. Hence, the "KDC Clinic" is regarded as one of the top hair transplant clinics in Faridabad. Furthermore, Dr. Archit Aggarwal is a competent hair transplant surgeon in Faridabad, renowned for his expertise in hair transplantation.
Continue reading to learn more about FUE hair transplants, including the steps, cost, benefits, and side effects.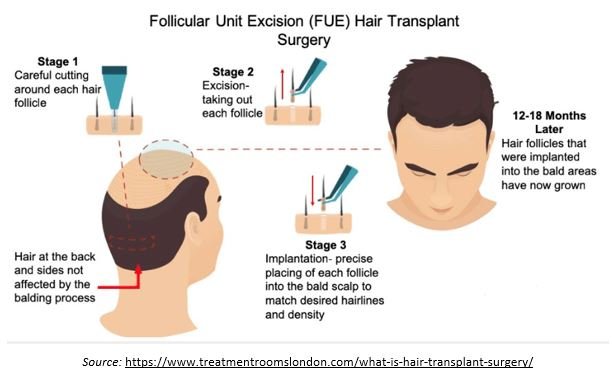 What exactly is an FUE hair transplant?
During FUE hair transplant, the surgeon removes individual hair follicles from the donor areas, usually the back scalp or other hair-bearing body areas, and implants them in the bald or thinning area. As a result, the transplanted hair may appear thicker.
FUE has replaced the traditional follicular unit transplantation (FUT) hair transplant method. This procedure entailed transplanting a small portion of scalp skin-bearing the hair follicles to the target area. FUE has gained wide acceptance over FUT because it does not leave a larger scar-like FUT hair transplant.
Now, let's know,
Who can go for FUE Hair Transplant?
The ideal candidate for an FUE hair transplant is anyone with thinning or balding hair who has a sufficient amount of healthy hair in nearby areas of the scalp for a transplant.
If you do not have enough healthy hair to transplant, you may be ineligible for an FUE hair transplant
Let us now look at the,
Steps of FUE Transplantation
The FUE procedure is as follows: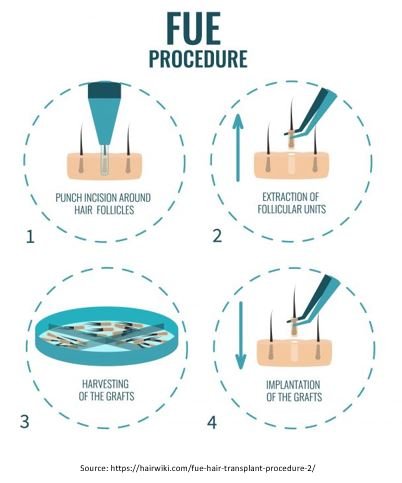 Your surgeon will shave the hair around the transplant area and the area from where follicles will be removed.
They will remove hair follicles from your skin with a micro punch tool.
Then, your surgeon will use a special needle or other small, sharp equipment to make several small incisions into the recipient area to implant the extracted follicles.
The surgeon will now insert the follicles into the incisions.
Your surgeon will clean and bandage the treatment area to promote healing.
Let's discuss,
FUE Hair Transplant Cost in Faridabad
The cost of an FUE hair transplant in Faridabad ranges between Rs. 60,000 and Rs. 1,20,000.
Compared to the FUT method, FUE is mainly a surgeon-dependent process requiring skills and expertise. As a result, it is slightly more expensive than FUT. However, because the price is calculated per hair graft, the total number of grafts transplanted determines the hair transplant cost.
Benefits of FUE Hair Transplant
No cuts on the operated area.
Safe, with fewer and temporary side effects.
Quick recovery.
Provides desired results in eight to twelve months.
Produces completely natural-looking and scarless results.
Side-effects of FUE Hair Transplant
Slight discomfort following the procedure.
Mild numbness in the operated area due to anesthesia.
Temporary bleeding in the treated region.
Risk of inflammation, itching, or infection in the treated area.
What to Expect After an FUE Hair Transplant?
FUE recovery is quick. You may experience swelling or discomfort for three days.
Here are some aftercare instructions your doctor may ask to follow:
Do not wash your hair or take a shower for at least two or three days.
For the first few weeks after starting to wash your hair, use prescribed medicated shampoos only.
Take a couple of days off work to help the recovery process.
Don't comb or brush your new hair for at least three weeks.
Wear hats, scarfs, or other head coverings only if your doctor says so.
For at least a week, refrain from any strenuous physical activity.
Some hair may fall out during the healing process; it is normal. After 3 to 4 months, you should notice new hair growth.
Your hair may not grow back as thick as expected, depending on the health of your transplanted hair.
Why Choose KDC Clinic for FUE Hair Transplant in Faridabad?

At KDC Clinic, you will receive the best FUE hair transplant in Faridabad from Dr. Archit Aggarwal, a reputed hair transplant surgeon.
Our clinic is staffed by highly trained and polite, and friendly staff who ensure that each patient receives personalized attention and care.
We combine our extensive skills with cutting-edge technology to provide excellent treatment and high-quality customer service.
We assure reliable, outstanding, and long-lasting results at our hair transplant clinic in Faridabad.
Visit us at KDC Clinic to consult our hair expert, Dr. Archit Aggarwal. He will examine your hair condition and recommend the best hair restoration treatment.
After the hair transplant, you can wear your hair short, and there will be no visible scar on your scalp.