Carbon Peel is an advanced peel performed with Q switched ND YAG Laser. It is known for its glowing & rejuvenating results.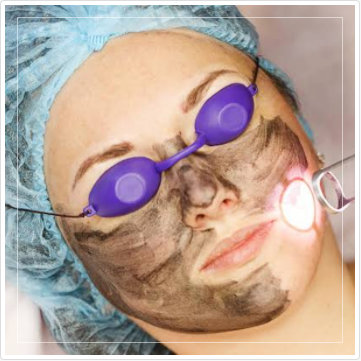 Mechanism
A carbon material is applied on face & blasted with pixelated 1064 nm Q switched ND YAG laser. This process results in delivery of energy to pilosebaceous units & reduction in pore size.
FAQs (Frequently asked questions)
How often is this treatment required?
Treatment is performed at monthly interval.
After how many days are effects visible?
Effects start appearing after 2-3 days of treatment.
Do I need to take rest after procedure?
This is a 15 min lunch time office procedure. You may resume work immediately after procedure. Sun protection & sunscreen are recommended.
Cost of procedure?
At KDC SKIN Clinic, we believe is providing value to our patients. All our treatments are affordably priced. Packages are available for additional benefits.